Loft & Bunk Beds for Youth Teen College & Adults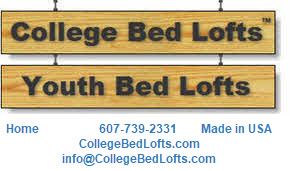 View All Bunk Beds
You design it and we build it to your exact specifications
Accessories
3-D
Reviews
Specs
Shipping
Assembly
Room Planner
About
Contact
FAQ's
Gift Guide
Safety
Privacy
Plans
Financing



Our flexible design makes our beds very popular with all age groups and may be customized as needed to meet your space, storage and budget needs. All beds are solid wood, super sturdy with 1,000 lbs. of weight capacity and have a Lifetime Warranty. Beds are hand sanded and ready for finishing by the customer or may be left unfinished.

Selling online since 2002 we are just one of a few woodshops still building custom loft and bunk beds in the USA. Each bed is Made-To-Order to your exact specifications so we can make it fit any ceiling height and mattress thickness. We ship to Homes, Apartments, Colleges, Cabins and Camps Nationwide in the USA. If you have questions on designing your bed, need help with online ordering or just want to talk to a real person please give us a call at 607-739-2331 and talk to the actual people that will build your bed. We build loft and bunk beds with desks, shelving, storage, drawers and stairs. We have low loft beds for youth, mid-height and tall loft beds for tween, teen, college students and adults. More...
Row 1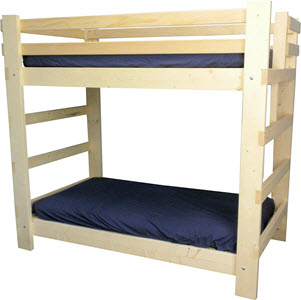 You design it and we build it to your exact specifications in a few days. Start with the Basic Bunk Bed and design yourself a bed to fit your space, storage and budget needs. Optional accessories include Headboards, Desks, Shelving, Angled Ladders, Corkboards, Whiteboards, Steps, Side Platform, L-Shaped Beds and more. Super sturdy beds for Youth, Teen, College and Adults. Solid Wood with 1,000 lbs. of Weight Capacity per level. Twin starting at $429, Twin-XL $449, Full $489, Queen $539, King $759.
Buy Now
We have Twin/Twin-XL Over Full, Twin/Twin-XL Over Queen and Full Over Queen Bunk Beds. We custom build each bed to your exact specifications. You may also add accessories such as Youth Safety Rails, Headboards, Shelving, Angled Ladders and more by selecting the options on the order form. Twin & XL/Full $549, Twin & XL/Queen $589, Full/Queen $609.
Buy Now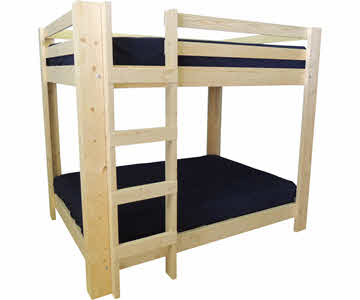 The Bunk Bed with Open Ends is a custom heavy-duty bunk bed with no horizontal rungs to give you a more open feel underneath. It is made with L-Shaped Legs to give it the sturdiness and stability needed for youth, teen, college students and adults. Twin $658, Twin-XL $678, Full $738, Queen $808.
Buy Now
Row 2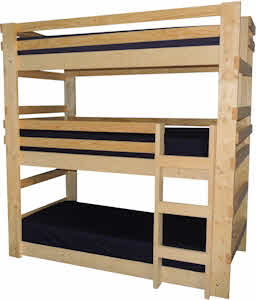 When using a 6" mattress you will get 27" space between the bunks. Twin $729, Twin-XL $749, Full $789, Queen $849.
Buy Now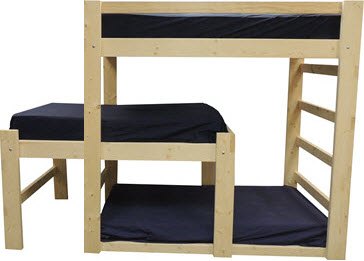 If you need vertical sleeping space for three people but only have an 8' ceiling we have a Triple Bunk Slider available. The middle bunk slides in or out to give the bottom and middle bunks more space at the head end. Twin $729, Twin-XL $749, Full $789, Queen $849.
Buy Now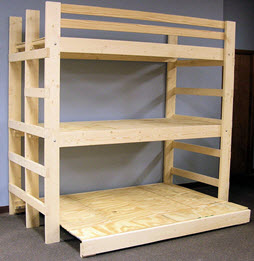 Available in: Twin/Twin/Queen $759, Twin/Twin/Full $789 and Full/Full/Queen $849. This customer had a cabin with a small bedroom. The parents slept in the queen bunk on bottom and the kids in the upper twin bunks. Twin & XL/Full $759, Twin & XL/Queen $789, Full/Queen $849.
Buy Now
Row 3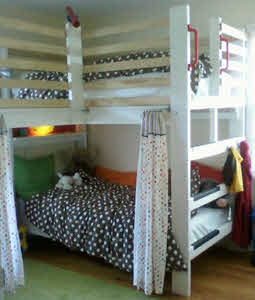 Using a combination of Loft and or Bunk Beds create a unique L-Shaped Bed with lots of open space underneath. You can select this option on the loft or bunk bed order form or give us a call to order.
More Info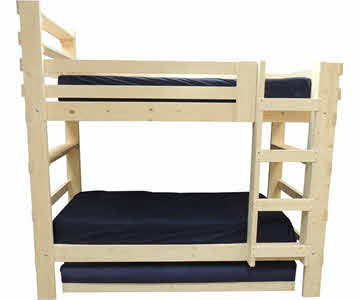 A bunk bed with a trundle underneath is perfect when having guests visiting or for kids sleep overs. This is also a nice option in a Bunkhouse environment for cabins and camps. The trundle easily fits underneath the lower bunk. Will work with any ceiling height. Twin $559, Twin-XL $579, Full $669, Queen $699.
Buy Now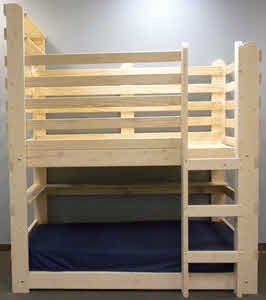 A nice option for younger children is a Playhouse on top and a Bunk Bed on bottom. Your child can sleep on the bottom bunk and use the top for a play area.  Once your child is old enough to sleep on top, you can remove the bottom bunk and make it into a loft bed.
Twin $939, Twin-XL $959, Full $1,049, Queen $1,099.
Buy Now
Row 4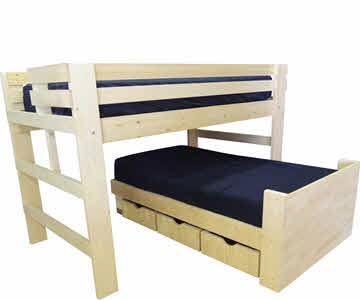 For small bedrooms we have a Mid-Height Loft Bed with a Captain's Bed. The beds are placed in a corner and the Captain's Bed may be positioned partially underneath the upper bed to save space. Twin over Twin $769, Twin-XL over Twin-XL $789, Full over Full $939, Queen over Queen $1049.
Buy Now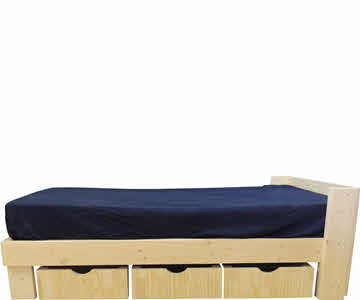 Captain's Bed with three storage drawers giving you plenty of storage space. The storage drawers are great for kids storing their toys, lego blocks and just about anything underneath the bed. Twin $349, Twin-XL $369, Full $449, Queen $499.
Buy Now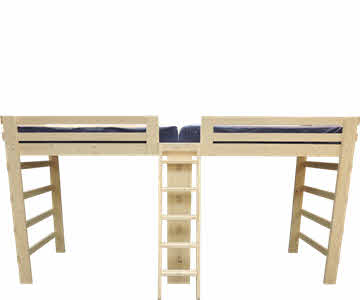 A custom set of beds that share the center Angled Front Ladder. Either bed can be a Loft or Bunk Bed. Please contact us if you would like to order this.
Contact Us