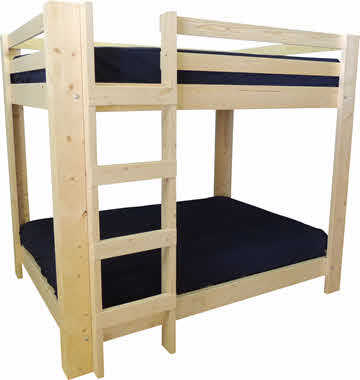 The Bunk Bed with Open Ends is a custom heavy-duty bunk bed with no horizontal rungs to give you a more open feel underneath. It is made with L-Shaped Legs to give it the sturdiness and stability needed for youth, teen, college students and adults. Beds are Ready-To-Assemble, unfinished, hand sanded and ready for finishing. 1,000 lbs. Weight Capacity per level. Lifetime Warranty. Mattress not included.
The bed shown here is a Full Size designed for an 8' ceiling and has the Vertical Front Ladder. Beds are available in Twin, Twin-XL, Full, Full-XL and Queen sizes.
Please contact us if you need to order a custom bunk bed.
Shipping
Specs
Reviews
Accessories
B/R3/C3 Bunk with Open Ends