---
Stairs Steps with Open Shelves
The Stairs Steps with Open Shelves gives you lots of extra storage space and easy to climb stairs. The unit may be placed anywhere on the bed. The steps are 19" wide and are available with Four (4) or Five (5) high Steps & Shelves. An optional Handrail is also available. The unit is all solid wood and the steps are clear & knot free.
With 19" wide steps it makes it much easier for children and adults walking up as compared to the 11" wide units sold by other manufacturers.
The unit may be installed either on the short end of the bed or on the long (front) side. Please contact us if you need a custom size built.
Specifications:
Short End Unit with (4) Steps is 44" high x 43" long or 53" long.
Short End Unit with (5) Steps is 55" high x 53" long or 63" long.
Long Side Unit with (4) Steps is 44" high x 53" long.
Long Side Unit with (5) Steps is 55" high x 63" long.
All units are 19" wide. Weight capacity is 300 lbs.
First photo above shows the (5) Step 55" x 63" unit.
Second photo shows the (4) Step 44" x 43" unit mounted at the short end of the bed. The width was customized to fit a narrow opening up against a wall.
Third photo shows the (5) Step 55" x 63" unit mounted on the long side of the bed. The width was customized to fit a wider opening up against a wall.
Fourth photo shows the optional Handrails.
---
Storage Drawers

The Storage Drawers are 20" wide x 7" high x 36" long giving you plenty of under bed storage space. You can place up to three (3) under the length of the bed or two (2) under the width of the bed. They slide on the floor and either have felt sliders for hard floor or hard sliders for carpets. The storage drawers are great for kids storing their toys, lego blocks and just about anything underneath the bed. The above photo shown the storage drawers underneath the Captain's Bed. They can also be used underneath the Bunk Bed, High-Rise Mid-Height Low Loft Bed and Low Platform Beds.
You can select the quantity once the item is in the shopping cart.
---
Mattress Foundation Bed Slats

The Mattress Foundation Bed Slats are a set of 1-1/2" thick bed slats that will fill the mattress area with a 3" gap between the slats. All beds automatically include this option in the base price. Please note, you do not need to supply a box spring, bunkie board or plywood with our beds, you can place the mattress directly on top of our bed slats.
---
Mattress Solid Platform

We have a Solid Platform available that attaches to the top of the bed slats. This may be needed if you have a foam mattress, thin mattress, older uncomfortable mattress, futon mattress, air mattress, mattress that requires a solid base or you just want a solid platform to get a firmer mattress feel. It has multiple pieces of 1/8" MDF that covers the entire mattress area. It is attached to the top of the Mattress Foundation Bed Slats which are included with the bed. This may be needed if your mattress manufacturer requires you to have a box spring, bunkie board or a totally flat solid platform surface to keep the mattress warranty active. This may also be used if you don't want to see the bottom of the upper mattress when sitting or sleeping underneath or if you want a solid separator between the top and bottom mattresses.
---
L-Shaped Bed Connector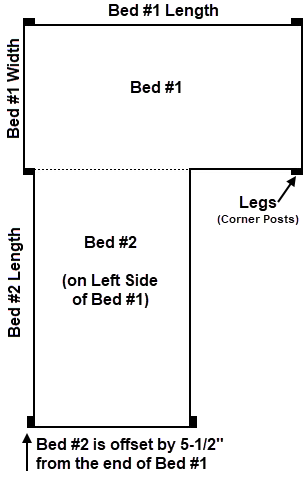 The L-Shaped Bed is a combination of two separate beds with a Connector between them joining the two beds together. This eliminates the center post giving you a larger open area underneath. The two individual beds may be a combination of loft or bunk beds.
To make a L-Shaped bed you need to select the Connector for the first bed only. The second bed ordered does not need the connector. The first bed in the shopping cart will be considered Bed #1 and the second bed will be Bed #2. If you have any custom specifications you can enter them during checkout.
L-Shaped Beds are perfect for kids sharing a small bedroom where two separate beds will not work out. You can also use one section as a bed and the other for a reading or play area. For a Play Area we will need to add a plywood platform to the top of the bed slats to form a solid top surface. You can then cover it with carpeting or foam mats to make it a nice soft play area.
This diagram shows the Left Side L-Shaped Bed. It can be made in any size and the beds can be different sizes. For example, Bed #1 could be a Queen Loft or Bunk Bed for sleeping and Bed #2 a twin for sleeping, a play area or reading area.
How much space will it take up in the room? Using the diagram you can calculate how much space you will need depending on the size beds you are ordering.
Bed Outside Dimensions: Width: Twin 44" Full 59" Queen 65" Length: Regular 79" XL 84" XXL 88".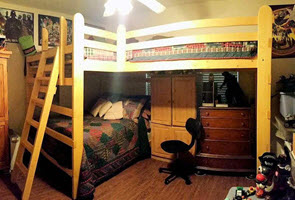 This photo shows a Right Side L-Shaped Bed with Bed #2 (a loft bed) on the Right side of Bed #1 (a bunk bed).
---
Bunk Bed Kit
You may use our Bunk Bed Kit to convert a loft bed into a bunk bed. The kit comes with (2) rails, the Mattress Foundations (bed slats) and hardware.
---
Loft Conversion Kit
The loft conversion kit allows you to convert one of our existing beds with a new set of legs and rungs. For example, you can convert a bunk bed into two loft beds or convert a high rise to a tall loft bed.
For your existing bunk bed you will remove the bottom bunk (rails and slats) and install them on the legs we provide. You will end up converting one bunk bed into two loft beds.
For your existing high rise bed, this will allow you to convert it into a tall loft bed. This is perfect for young children initially needing a lower loft and moving up to a taller loft as they get older.
Loft Conversion Kits Include:
(4) 39" Legs (4) Rungs Hardware Kit
(4) 72" Legs (8) Rungs (2) Safety Rails Hardware Kit
(4) 84" Legs (10) Rungs (2) Safety Rails Hardware Kit
(4) 96" Legs (12) Rungs (2) Safety Rails Hardware Kit

Shipping cost is not included in the price. Before ordering please contact us to confirm the specifications and shipping cost.
---
Corner & Rung Braces
For most of our standard beds, Corner and Rung Braces are not required. However if you have customized it to make it taller or longer or if you want additional bracing then Corner and/or Rung Braces may be added. Also some colleges require all beds to have Corner & Rung Braces. The Corner Braces go on the long sides, Rung Braces go on the rungs at the headboard & footboard ends.
---
Lockable Storage Box - Clothes Rack - Towel Bar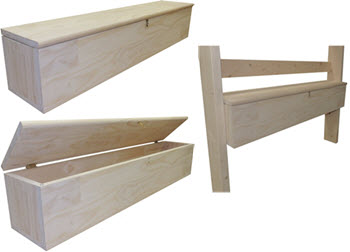 For college students needing a Lockable Storage Box to store their valuables or if you need additional storage on your bed or desk we have a Lockable Storage Box available. It can be placed on top of the desk or installed in-between the legs of the bed. You can also turn it sideways and use it for storing game system cartridges. It is made from knot-free solid Spruce, 8" x 8" and available in twin, full and queen sizes. We can also make it to a custom size if needed. Please contact us if you need a custom size built. You need to provide your own lock. The last photo shows the Storage Box installed in-between the legs. It is attached to the legs with screws from the inside of the box.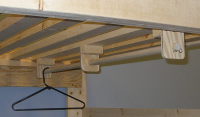 Our Clothes Rack is used in rooms that don't have a closet for hanging clothes or for college students needing more clothes hanging space. It is 3' long for the twin size and 4' long for the full and queen size beds. It may be mounted anywhere underneath the bed to a bed slat.

The Towel Bar is very popular with college students as dorm rooms and apartments typically don't have a place to hang wet towels in the room and you definitely don't want to leave your towels in a shared bathroom. The towel bar is 3' long and comes unassembled and may be attached anywhere on the bed.
---
Gaming & Entertainment Center Accessories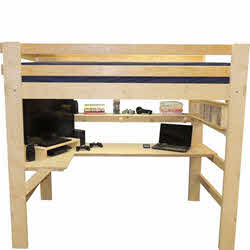 Game Shelf. For the serious Video Gamer we have accessories to build your Gaming Center Loft Bed. The Game Shelf allows you to place your monitor on top and the system unit underneath. It is 18" long x 10" deep x 5" high. The maximum system unit size that can be placed underneath is 15" long x 4" high. Please let us know if you need a larger size Game Shelf.
---
Rush Service & Special Delivery Options
Rush Service:
Ship my order out in 1 - 2 business days.
FedEx Special Delivery Options:
Standard: Deliver Tuesday - Saturday 8 am - 8 pm. There is no guaranteed date/time with standard delivery.
Date Certain: Deliver on a specific date Tuesday - Friday with delivery 8 am - 8 pm.
Saturday: Deliver on a Saturday between 8 am - 8 pm.
Appointment: FedEx will schedule an appointment with you (2 hour window) for delivery Tuesday - Saturday.
Enter your Requested Delivery Date into the Custom Specifications Box during checkout.
---
Customization / Shipping Charge
If you have a Customization or an Additional Shipping charge you may add it to your shopping cart here. During checkout you may enter any Custom Specifications or Order Comments. You can select the $1 charge and change the quantity in the shopping cart or select the exact amount.
---
Is this for a New or an Existing Bed?
New: This is for a new bed that you are currently ordering or have on order and it hasn't shipped yet (no shipping charge needed).
Existing: This is for an existing bed that you have already received (we will contact you with the shipping costs).
Other: This is for a different style bed that you didn't purchase from us (we will contact you for the specs and shipping costs).
If you select Other please send us a photo of your existing bed and detail specifications to info@CollegeBedLofts.com and we will check to make sure our accessory will fit your bed.
Phone Number (Required)
Please enter your Phone Number in case we need to contact you