Loft & Bunk Beds for Youth Teen College & Adults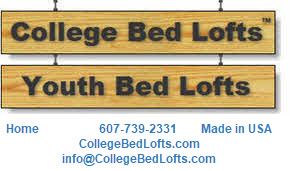 View All Loft Beds
You design it and we build it to your exact specifications
Accessories
3-D
Reviews
Specs
Shipping
Assembly
Room Planner
About
Contact
FAQ's
Gift Guide
Safety
Privacy
Plans
Financing



Our flexible design makes our beds very popular with all age groups and may be customized as needed to meet your space, storage and budget needs. All beds are solid wood, super sturdy with 1,000 lbs. of weight capacity and have a Lifetime Warranty. Beds are hand sanded and ready for finishing by the customer or may be left unfinished.

Selling online since 2002 we are just one of a few woodshops still building custom loft and bunk beds in the USA. Each bed is Made-To-Order to your exact specifications so we can make it fit any ceiling height and mattress thickness. We ship to Homes, Apartments, Colleges, Cabins and Camps Nationwide in the USA. If you have questions on designing your bed, need help with online ordering or just want to talk to a real person please give us a call at 607-739-2331 and talk to the actual people that will build your bed. We build loft and bunk beds with desks, shelving, storage, drawers and stairs. We have low loft beds for youth, mid-height and tall loft beds for tween, teen, college students and adults. More...
Row 1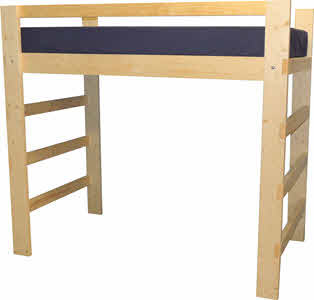 You design it and we build it to your exact specifications in a few days. Start with the Basic Loft Bed and design yourself a bed to fit your space, storage and budget needs. Optional accessories include Headboards, Desks, Shelving, Angled Ladders, Corkboards, Whiteboards, Steps, Side Platform, L-Shaped Beds and more. Super sturdy beds for Youth, Teen, College and Adults. Solid Wood with 1,000 lbs. of Weight Capacity. Twin starting at $299, Twin-XL $319, Full $359, Queen $419 and King $599.
Buy Now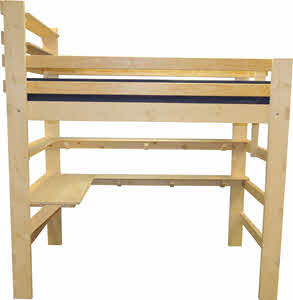 Our most popular Loft Bed with a Desk and comes with the Double Bookshelf Headboard, Short Shelf, Long Shelf and may be customized with Cork & White Boards, Ladders, Short Desk, Long Desk, L-Shaped or U-Shaped Desk. Twin starting at $674, Twin-XL $694, Full $734, Queen $794, King $974.
Buy Now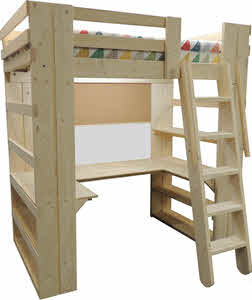 Loft Bed Workstation with lots of shelves and storage space. Includes Angled Ladder with Handrails, Corkboard, Whiteboard, U-Shaped Desk and five 12" deep shelves. Twin $1,558, Twin-XL $1,598, Full $1,658, Queen $1,708, King $1,858.
Buy Now
Row 2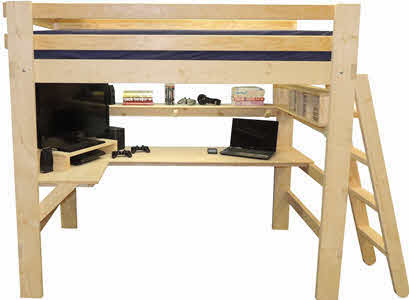 A loft bed system for the serious video gamer. With a large L-Shaped Desk you can place your monitor anywhere on the desk. It has a Game Console Shelf and a storage box for storing discs. Twin $849, Twin-XL $869, Full $909, Queen $969, King $1,149.
Buy Now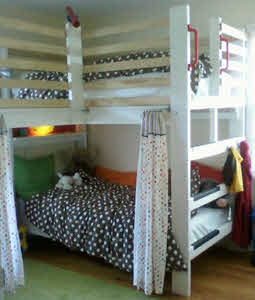 Using a combination of Loft and or Bunk Beds create a unique L-Shaped Bed with lots of open space underneath. You can select this option on the loft or bunk bed order form or give us a call to order.
More Info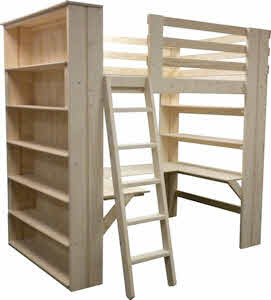 Custom Loft with a large U-Shaped Desk and a wall of 12" deep shelves. When placed in a corner this gives your child a lot of privacy for reading and studying. Starting at Twin $1,600, Full $1,800, Queen $2,000.
Buy Now
Row 3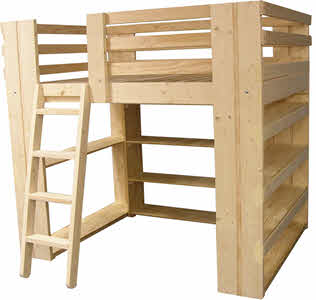 Custom loft bed with lots of shelving for storage. With (9) 12" deep shelves you can place lots of storage bins underneath. Twin $1,299, Twin-XL $1,319, Full $1,359, Queen $1,419, King $1,599.
Buy Now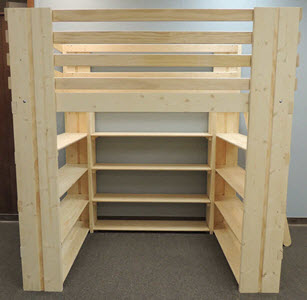 Custom loft bed with lots of shelving for storage. With (12) 12" deep shelves you can place lots of storage bins underneath. Twin $1,499, Twin-XL $1,519, Full $1,559, Queen $1,619, King $1,799.
Buy Now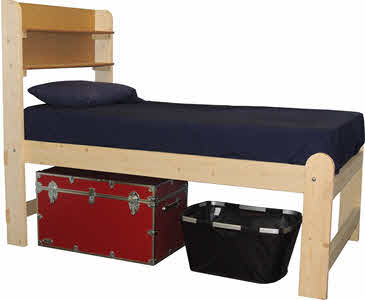 If you just need more storage space but don't want to be sleeping 5' off the floor our High Rise / Platform / Low Loft Bed will give you up to 30" storage space underneath. Twin starting at $249, Twin-XL $269, Full $309, Queen $359, King $459.
Buy Now
Row 4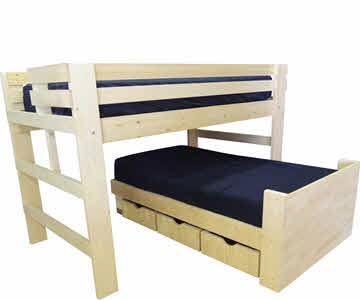 For small bedrooms we have a Mid-Height Loft Bed with a Captain's Bed. The beds are placed in a corner and the Captain's Bed may be positioned partially underneath the upper bed to save space. Twin over Twin $769, Twin-XL over Twin-XL $789, Full over Full $939, Queen over Queen $1049.
Buy Now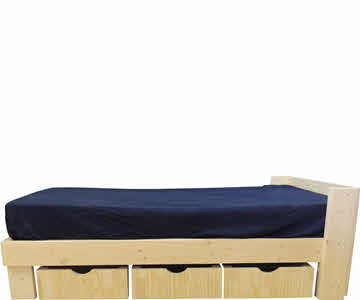 Captain's Bed with three storage drawers giving you plenty of storage space. The storage drawers are great for kids storing their toys, lego blocks and just about anything underneath the bed. Twin $349, Twin-XL $369, Full $449, Queen $499.
Buy Now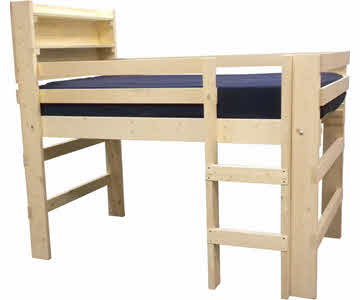 For young children needing storage and play space underneath but not too high off the floor. Options include a Vertical Front Ladder, Youth Safety Rails, Double Bookshelf and Solid Headboard. You specify on the order form the amount of space you want underneath.
Buy Now
Row 5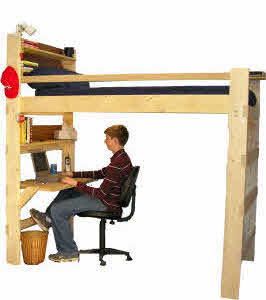 Students needing more space in their dorm room can use our Lofting Kit to raise their existing dorm room bed off the floor. Super sturdy beds, 1,000 lbs. weight capacity, safety rail and ladder. Shelving & desks are also available. Twin-XL $319.
Buy Now
To date we have shipped over 25,000 beds to over 600 Colleges and Universities across the USA.
Colleges We Ship To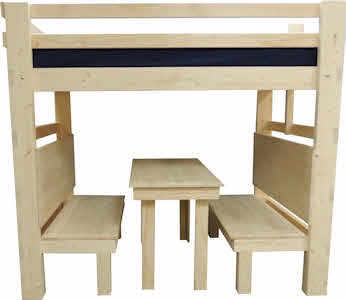 Loft Bed with built-in benches and a table underneath. May have benches on both sides or on just one side and a wall of shelves on the other. Price ranges are $700 - $900 depending on the options selected.
More Info
Row 6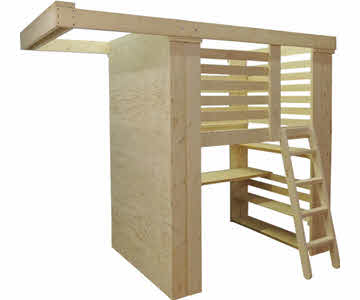 Kids love climbing and it makes for great exercise. A custom Loft Bed designed with a Rock Climbing Wall and a Jungle Gym along with a play area on top and desk and lots of shelves underneath.
More Info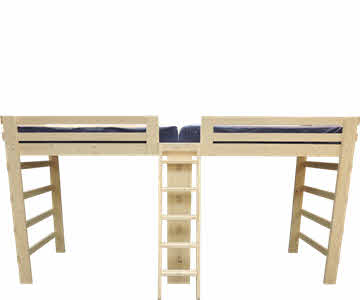 A custom set of beds that share the center Angled Front Ladder. Either bed can be a Loft or Bunk Bed. Please contact us if you would like to order this.
Contact Us