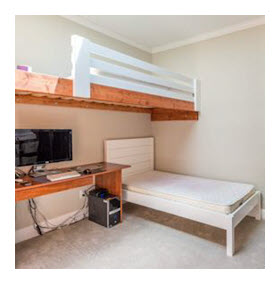 C:B3 - Wall-To-Wall Bed: This custom bed is sized to fit the exact wall length and does not have any legs (corner posts). The bed is screwed into the wall studs every 16" with lag screws on three sides. At the short ends we have extra boards to support the ends. We double size all the main support beams to give it the strength neded so it will not need a center support leg. It has a removable Angled Front Ladder.
From the Customer: "Originally this room was a two person home office. As two families came together, this needed to do double duty as a home office and a bedroom for two visiting teens. Using the loft bed, we were able to maximize the square footage to accommodate two twin beds, a desk, and a reading nook.  It was important that the room appealed to the two young teens, so we aimed for an urban tree house theme complete with pop rock posters of their choosing. The room is really functional and it is nice to work in. The kids seem to enjoy it very much."
Please contact us to order this custom bed.