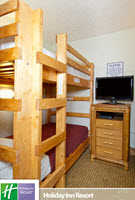 P:A3 - Bunk Beds for Dorms, Fraternity & Sorority Houses, Hotels. We supply colleges, fraternity & sorority houses with loft & bunk beds.
We built 250 Bunk Beds for the Panama City, FL Holiday Inn Resort for their "Family Rooms" catering to families and college students. Please see the Holiday Inn website showing our beds. Please Note this will open up in a new window. The Holiday Inn bed shown here is a Twin-XL with the Vertical Front Ladder. The hotel sprayed a clear coat finish on the beds.
Bunk Beds for Work Camps.
We also build custom super heavy duty beds for the Oil & Gas Industries, Youth Summer Camps, Retreat Centers and Work Camps.
Please Contact Us if you need to purchase a large quantity order.
Click photo to enlarge.