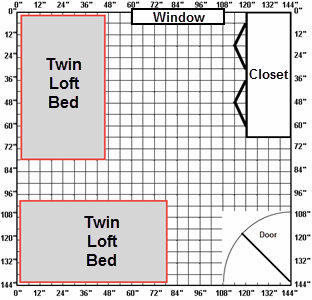 Room Planner & Design Guide
Need help designing your child's bedroom? Use our Room Planner & Design Guide to layout where the bed will best fit in your room. Print the grid and cut out the loft size you are going to use to place it on the grid. Make sure you mark all walls, doors, windows, closets and any other furniture that will be in the room. Each square on the grid is 6". The overall grid is for a 12' x 12' room. Scan the drawing or take a picture of it and email it to us at: info@CollegeBedLofts.com.
We also need to know the Ceiling Height and Mattress Thickness.
Also please send us various photos of the room and where you want to place the bed.
Shown here is a sample room planner showing the layout of the beds, window, closet and door.