High-Rise Bed Order Form
This bed may be used by Youth, Teen, College Students & Adults
For Help with Online or Phone Ordering please call 607-739-2331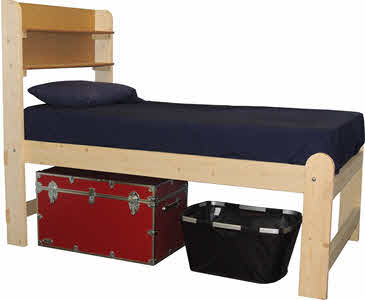 The High-Rise Bed is also called a Raised Platform, Low Loft or Mid-Height Loft Bed. If you are just looking for additional under bed storage space but don't want to be sleeping 5' off the floor consider using this bed. It can be made with up to 30" of storage space underneath. We can also customize the height to be lower. If you need it taller you need to order the standard Loft Bed and we will build it to the exact height you need.
The storage space underneath is perfect for children storing toys in storage bins or for college students for storing your footlocker, boxes and out of season clothing. The bed also has an optional Desk and Double Bookshelf Headboard where you can place your books, glasses, cell phone or stuffed animals. Bed has 1,000 lbs. Weight Capacity. Lifetime Warranty. Mattress not included. Please Contact Us for any customizations.
Photo shows bed with 24" space underneath, optional Double Bookshelf Headboard and Round Top Legs. The Bed Rail (that supports the mattress) is 6" wide. With 24" space underneath and a 6" wide bed rail the top of the 8" thick mattress is at 38".
Shipping
Product Specs
Customer Reviews