Design & Price a Custom Loft Bed Order Form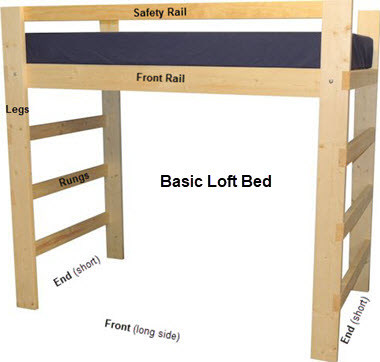 We custom build each bed to your exact specifications. Using our order form below you start with the Basic Loft Bed (see first photo) and design yourself a custom bed to fit your space, storage and budget needs.
On the order form below you can select the Bed Size, Ceiling Height, Space Underneath, Leg Height, Mattress Thickness, Safety Rails and Pillow Stop. You may then add accessories such as Headboards, Desks, Shelving, Angled Ladders, Corkboards, Whiteboards and more by selecting the options below.
Ladders to climb up are built-in at both ends of the bed or you can use the optional Angled Ladders. Beds are Ready-To-Assemble, unfinished, hand sanded and ready for finishing. 1,000 lbs. Weight Capacity. Lifetime Warranty. Mattress not included.
L/R1/C1 Y/R1/C1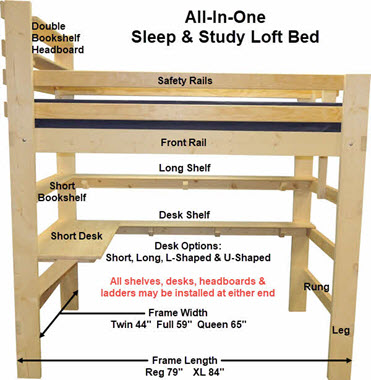 The second photo is a loft with Youth Safety Rails and has the most popular accessories needed for youth, teen and college students beds. Free Shipping on all options and accessories when ordered with a bed. You can create a unique custom bed to meet your space, storage and budget needs by selecting the options and accessories below.
If you have any questions or would just rather place the order over the phone please give us a call at 607-739-2331 or 866-739-2331.