Custom Loft & Bunk Beds for Youth Teen College & Adults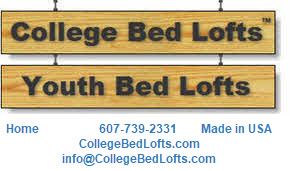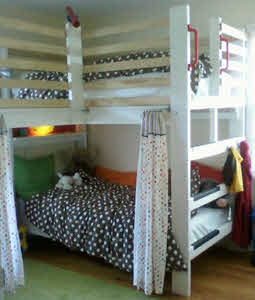 L-Shaped Loft & Bunk Bed
The L-Shaped Bed is a combination of two separate beds with a connector between them. Joining the beds together eliminates the center post giving you a larger open free space area underneath. This can be used for a variety of purposes. A combination Bunk and Loft Beds give you three sleeping surfaces for when multiple kids are sharing a room, sleepovers or visiting guests. You can also make it by using two lofts and have a large open area underneath for desks, shelves or a large play or reading area. Another popular option are two lofts with one side being a bed and the other side used as a reading nook with lots of open space underneath.
The two individual beds may be two loft beds or a combination of a bunk and loft bed. To make a L-Shaped bed you need to select the L-Shaped Connector on the order form for the first bed only. The second bed does not need a connector to be ordered. Basically you specify Bed #2 to be on the Left or Right of Bed #1.
This first photo shows the Left L-Shaped Bed. Basically Bed #2 is a Loft Bed and is on the Left side of Bed #1 a Bunk Bed. The loft bed area had plywood placed on top of the bed slats to create a reading area and does not have a mattress. This was painted by the customer and curtains we added to create a private area underneath.