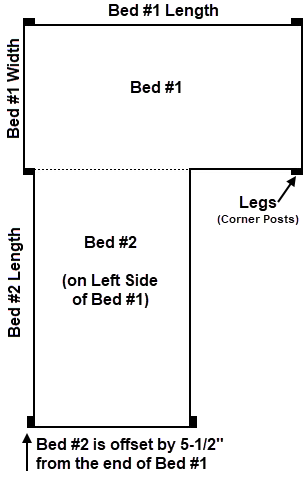 This diagram shows the Left L-Shaped Bed where Bed #2 is on the Left of Bed #1. The L-Shaped Beds can be made in any size and the beds can be different sizes.
How much space will it take up in the room? Using the diagram you can calculate how much space you will need depending on the size beds you are ordering. Basically the footprint is the Length of Bed #1 by the combination of the Width of Bed #1 plus the Length of Bed #2. For example, a combination Twin-Twin is 79" (length of Bed #1) by 123" (44" width of Bed #1 plus 79" Length of Bed #2).
Please Contact Us if you need to have them fit into a smaller space. We can shorten the width and length to make it fit.
Bed Outside Dimensions: Width: Twin 44" Full 59" Queen 65" Length: Regular 79" XL 84".
Need help designing your child's bedroom? Use our Room Planner & Design Guide to layout where the bed will best fit in your room.
Room Planner & Design Guide