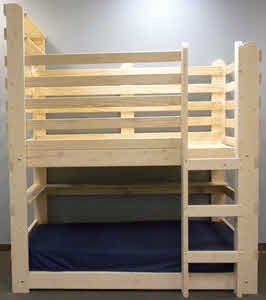 A nice option for younger children is a Playhouse on top and a Bunk Bed on bottom. Your child can sleep on the bottom bunk and use the top for a play or reading area.  Once your child is old enough to sleep on top, you can remove the bottom bunk and make it into a loft bed. The Play Bunk Bed meets the Consumer Products Safety Commission Guidelines. We custom build every bed to your exact specifications so we can fit it to any ceiling height and is available in any size and has 1,000 lbs. of Weight Capacity. We recommend placing a piece of carpet on top to give you a nice soft playing surface. Mattress not included.
The standard bed includes (5) Sets of safety rails going 30" above the top of the platform, bunk bed bottom, plywood platform on top of the bed slats and a (short end) ladder. Space Underneath: 44" with an 8' ceiling and 55" with 9' ceiling.
The photo shows the bed with the following optional accessories: Double Bookshelf Headboard, Short Bookshelf, Long Shelf and Vertical Front Ladder. Other optional accessories include desks, corkboards, whiteboards and more. Optional accessories may be added to the bed by selecting the option on the order form below. Please contact us if you need to order a custom Playhouse bed.
Shipping
Specs
Reviews
Accessories
B/R1/C3