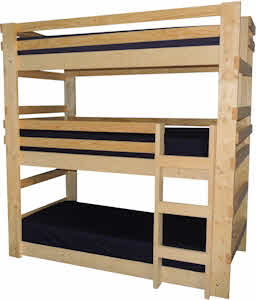 Triple Bunk Beds are perfect when multiple children share a small bedroom or for cabins, camps and retreat centers. You need to have at least a 9' ceiling and use a 6" thick mattress. You will get 27" of space between the bunks.
Please contact us if you need to order a custom Triple Bunk Bed.
This bed includes a short front ladder to climb into the middle bunk and safery rails for the middle and top bunk. Mattress not included.
Shipping
Specs
Reviews
Accessories
B/R2/C1
After placing order we will contact you to confirm the specifications and the exact placement of the ladder.