Loft Bed Plans & Bunk Bed Plans $10
For the Do-It-Yourselfers we have
Loft & Bunk Bed Plans, Hardware Kits & Leg Kits
Build a bed using your lumber and our plans
You download the plans after placing the order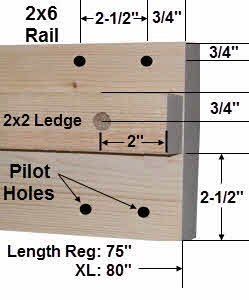 Loft Bed & Bunk Bed Plans $10: Our plans include sizes for Twin, Twin-XL, Full & Queen loft & bunk beds. Assembly instructions are also included. It requires minimal woodworking skills and can be completed in 1 - 2 days. Also included are the plans for the: High Rise Platform Bed, Low Platform Bed, Front Ladder, Bookshelves, Bunk Bed, Safety Rails and Desktop.  The plans include: Material Lists, Dimensional Drawings, Woodworking Tips, Tools Required and General Notes.
Please Note we do not offer plans for the following: King sizes (they are very wide beds and will need a large center support). Multi-Width Bunks (twin/full, etc.). Steps & Shelves. Side Platform. Custom desks/shelving/beds. Many of these items are more complicated for the typical casual woodworking home project and requires advanced design and carpentry skills. We also do not make custom plans.
The diagram shows a sample of the Front and Back Rail plans.
Hardware Kits: Loft $40 Bunk $50 (Free Shipping)
The Hardware Kit includes a hard copy of the Loft Bed Plans and all the carriage bolts, nuts, washers, screws and wood glue needed to build your complete bed. Hardware Kits go out by FedEx Ground to the contiguous US and by USPS Priority Mail to Alaska and Hawaii and once shipped will arrive in 1 to 5 business days.
Leg Kits (Free Shipping)

The most time consuming and difficult part of building the loft yourself is cutting notches into the legs (corner posts). For the DIY college student or customer who wants to build a basic loft or high rise but doesn't have the time, tools or space for cutting the notches into the legs, we also have Leg Kits available.
The Leg Kit includes a hard copy of the Loft Plans, the Hardware Kit and 4 legs (corner posts) in either 39" (High Rise Platform Bed), 72" (Standard Height), 84" (Extra Tall) or 96" (Super Tall) leg height. To complete the loft you need to supply the remaining lumber for the front/back rails (2x6's, 2x2's), ladder rungs (2x4's), bed slats (2x4's) and safety rails (1x4). The 96" Super Tall Legs price includes the FedEx "Oversize" charge.
When ordering the Leg Kit, you may also select the Leg Top Design which are: (4) Square Top (default), (2) Round Top & (2) Square Top (for use with the double bookshelf headboard), or (4) Round Top. Leg Kits ship out in a few days and once shipped will arrive in 1 to 5 business days. The Leg Kits go out by FedEx Ground and are only available to the contiguous US.
Use our
Height Calculator
to determine what leg height you need and how much space you will get above and underneath based on your specifications. Please
Contact us
if you need custom legs made.
Frequently Asked Questions
Is there a Discount for Purchasing a Complete Loft Bed Kit: Yes. If for any reason after purchasing you decide you would rather have purchased our complete Loft Bed Kit instead, or would like to purchase the remaining pieces from us, the full payment may be credited toward purchasing any of our Loft Bed Kits.
Can I also order some accessory items now? Yes. After placing the plans into your shopping cart you can order them from the Accessories page. Please note accessories will have a separate shipping charge. After receiving your order we will contact you with the shipping charge for the accessories.
Can I buy the remaining lumber pieces from you later on? Yes. If for any reason after purchasing the Loft Bed Plans, Hardware Kit or Leg Kit, you decide you would have rather bought the entire bed kit, your original purchase will be credited toward buying a complete kit.
I am having a hard time finding good quality lumber, what kind of lumber do you use? We understand that it is very difficult to find nice straight boards from home improvement stores. Most lumber yards cary construction grade and not furniture grade lumber. You need to sort through many boards just to find a few nice pieces. For your safety be very careful when sorting through a pile of lumber as it can easily fall down and never let children be around piles of stacked lumber. We use a special grade of Kiln-Dried Heat Treated Western Spruce from the Pacific Northwest which is specifically milled for us. Since Western Spruce grows in a cooler climate, it stays straighter and has fewer knots better than other wood species. Western Spruce is typically not available at most lumber yards or home improvement stores.