Loft & Bunk Beds for Youth Teen College & Adults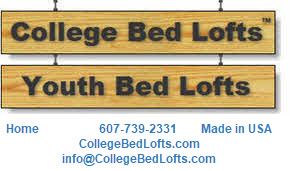 3-D View Pan Zoom & Rotate
Lofts
Bunks
Buy This Bed
View Large 3-D Image
Shown below is the Workstation Loft Bed. It has 12" wide legs giving you lots of storage space. It has the Angled Heavy Duty Ladder with Handrails, Corkboard, Whiteboard, U-Shaped Desk, five (5) 12" deep shelves and the Youth Safety Rails. This bed may be customized to create a unique one-of-a-kind bed to meet your space, storage and budget needs by selecting the options on the Order Form.
Custom Loft Bed - Multiple Photo Views
This custom Loft Bed has 12" wide legs at one end and standard 6" legs on the other. It has the Shiplap style Double Bookshelf Slatted Headboard, Angled Front Ladder, L-Shaped Desk and lots of shelving. Click on any photo to enlarge. Please Contact Us to order a Custom Bed.