Basic Loft Bed Order Form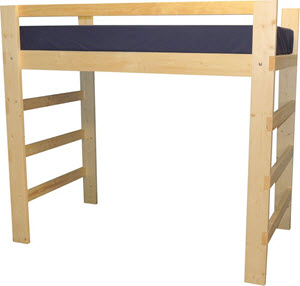 We custom build each bed to your exact specifications. On the order form below you can select the Bed Size, Ceiling Height, Space Underneath, Leg Height, Mattress Thickness, Mattress Solid Platform, Safety Rails and Pillow Stop. Ladders to climb up are built-in at both ends of the bed. Beds are Ready-To-Assemble, unfinished, hand sanded and ready for finishing. 1,000 lbs. Weight Capacity. Lifetime Warranty. Mattress not included.
This bed can also be used in College Dorm Rooms to raise your existing dorm room bed off the floor. You basically will take your existing bed's spring frame and mattress and place them on top of our bed slats.
You can also customize this bed with optional accessories such as Headboards, Desks, Shelving, Angled Ladders, Corkboards, Whiteboards and more by selecting the Accessories button below.
Shipping
Specs
Reviews
Accessories
Customize
L/R1/C2